Spring Season 2022 Launch
Get ready for the Spring 2022 season coming soon!
We are ecstatic to introduce the first Pacific Esports League tournament for the 2022 year, the Spring Series. We have taken everything you love from the Fall Frenzy and made it even better.
Important Dates
Registration Opens: 1/3/2022
Registration Closes: 1/29/2022
Regular Season: 1/31/2022 to 3/13/2022
Break Week: 3/14/2022 – 3/19/2022
Playoffs Start: 3/20/2022 – 4/16/2022
Games
We will be running Valorant, if you are interested in other games, please let us know on our official Discord server.
Regular Season Format
Our regular season will keep the same 1 match per week format as the Fall Frenzy. We will be adding an additional match into the regular season to have 6 rounds of regular season before playoffs.
Prizing
The prize pool for this tournament will be $1250. More information on prize distribution will be provided as we get closer to the tournament.
EXPERIMENTAL CHANGES
All of these changes were recommended by YOU! Through feedback suggestions and ideas presented to us by participants in the Fall Frenzy we are planning to try some new things for our spring season!
Please note: All of these changes are not finalized so please let us know what you think!
Playoff Format:
As the level of competition has continued to increase, more teams deserve the opportunity to go to playoffs. The main issue we have run into is scheduling our playoffs. We believe that double elimination format is great for teams and the storyline of the tournament; however, the logistics become incredibly difficult to organize as more teams are added. We believe we have a solution that will allow for more teams to have a shot in playoffs.
We will be removing the Play-in format and switching to a 6 team double elimination bracket for both divisions. The top 4 teams for the regular season will start in the upper bracket for the tournament and the 5th and 6th seed team will start in the lower bracket (Please see image for more detail).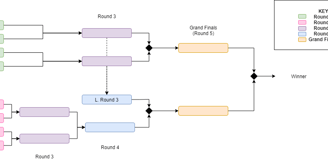 We hope this change will allow more teams to showcase their abilities and make some fantastic runs through the playoffs while not being too taxing in terms of the schedule of the tournament. This change will add 1 additional round to playoffs.
Streamlined Procedures:
One of the biggest things we hope to change with the Spring Season 2022 is making the communication between teams and scheduling of matches easier. By using discord integration and more tools built into the portal, we should be able to dramatically cut down on the number of steps and links required to schedule your matches.
We hope that this change will make it easier to get into your matches easily.
Closing
We want to thank every player and team that competed in the Fall Frenzy 2021. This tournament was our largest to date and we learned a ton from it! We can't wait to continue improving our events and creating better opportunities to the students of California.
We hope to see you in the Spring Season!
Current planned playoff format for the Spring Season.